2018 CCA NATIONAL CONVENTION & TRADESHOW

April 27 – 29, 2018

Calgary, Alberta
Thank you to all that attended NCT'18. It is with your enthusiasm that we had an even bigger and better NCT, and we look forward to continuing to grow in Halifax in 2020. The CCA National Convention & Tradeshow continues to be Canada's largest chiropractic show, bringing together chiropractic clinicians, researchers, chiropractic stakeholders, and exhibitors.
This year, we explored the important theme of A Better Approach to Pain Management – Chiropractic Care Changes Pain. In addition to meeting some of the best exhibitors in North America on our tradeshow floor, attendees had the opportunity to take part in Workshops, Intensive, Breakout and Keynote sessions, a Chiropractic Assistant (CA) focused business management educational stream, as well as social and networking events.
This event-packed weekend brought our profession together for inspiration, passion, networking, knowledge transfer, and some fun! Thank you for helping us make the CCA National Convention and Tradeshow the most celebrated chiropractic event of 2018!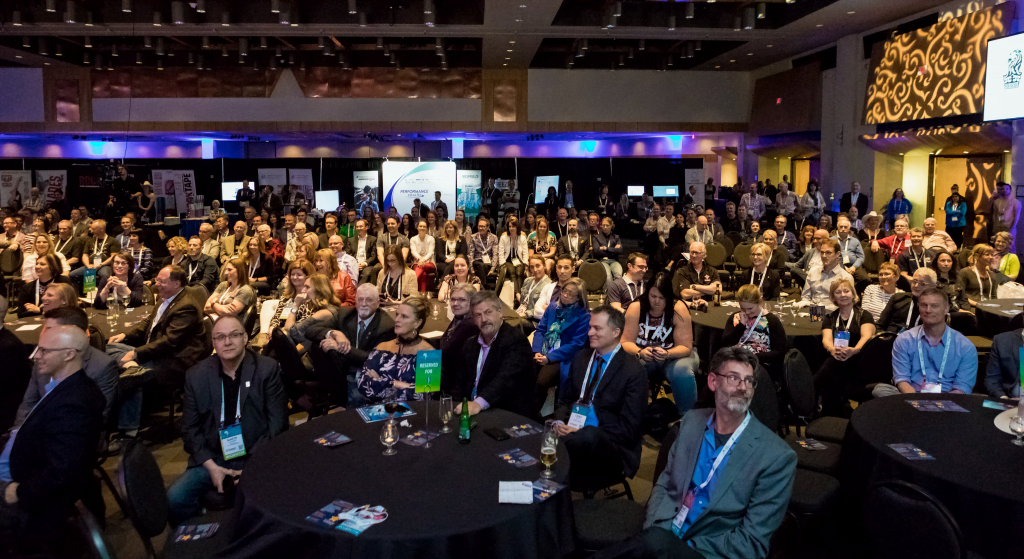 CCA NCT 2018 Speakers
In addition to many panels, workshops, and seminars, NCT 2018 hosted numerous amazing keynote speakers! Scott Stratten, president of Unmarketing, kicked off Friday night by challenging us to rethink our ideas of the digital and real world. Recognizing Threatening Conditions that Mimic Common Complaints, from Dr. Brandon Steele, helped refresh participants' knowledge in diagnosing the causes of chest pain, back pain, hip pain, arthritis and many other issues. In regards to the role chiropractors play in pain management, Dr. Jason Busse highlighted chiropractic's unique opportunity in battling North America's opioid crisis.
Esteemed chiropractor, Dr. Greg Kawchuck got us all determined to explore strategies that will extend the shelf-life of chiropractic in today's evidence-based, integrated healthcare environment. And of course, it was an honour for me to interview Canadian Olympic Track Silver and Bronze Medal winner Andre De Grasse and his chiropractor, Dr. Alban Merepeza, about their amazing partnership.
I would like to thank Dr. Carlo Ammendolia for bringing his Boot Camp Program for Lumbar Spinal Stenosis to convention. He provided attendees with hands-on skills to treat LSS, a leading cause of pain, disability, and loss of independence in people over the age of 65.
There are so many more to be highlighted! As is evident from the wide selection of Workshops, Intensives, Breakouts and Keynote sessions, NCT 2018 served as a showcase of the role the chiropractic community plays in helping Canadians manage their pain.
What Attendees had to say
"Love to see fellow colleagues getting together for the purpose of learning, growing and professing our big idea with one another"
"We had such a fantastic time and learned so much at #CCANCT18 in Calgary!! Already so excited for #CCANCT20 in Halifax! Thanks a million @CanChiroAssoc, you rock!"
"Thanks for making this happen. Truly an amazing few days! The future started this weekend…"
"Love to see fellow colleagues getting together for the purpose of learning, growing and professing our big idea with one another"
"Wow, what can I say about this past few days at the CCA national trade show and conference. I've learned a lot, listened to world class clinicians and researchers, renewed my focus on evidence based practice and patient centered care, caught up with some old friends, made some new ones, and even became an honorary Calgarian!… It's a great time to be a chiropractor!"
Checkout some highlights from this great event!
NCT 2018 'Denim & Diamonds' Social Event
The signature social event of the 2018 CCA National Convention & Tradeshow took place on the evening of Saturday, April 28 in the Grand Hall at Ranchman's Cookhouse and Dancehall located on the south end of the city.
Our guests dusted off their favourite sparkly accessories and dancing boots to join other convention attendees at this spectacular evening that celebrated the chiropractic profession in Canada.
At the NCT 2018 Denim and Diamond's event attendees bid to see their chiropractic colleagues ride Ranchman's mechanical bull! Together we raised over $25,000 dollars for Chiropractic Research!
Wow! What an amazing few days. It is an honour to have hosted so many leaders in the chiropractic profession in Calgary. Special thank you to our sponsors, staff, volunteers, and our VIP members who made it happen. We'll see you in Halifax in 2020!