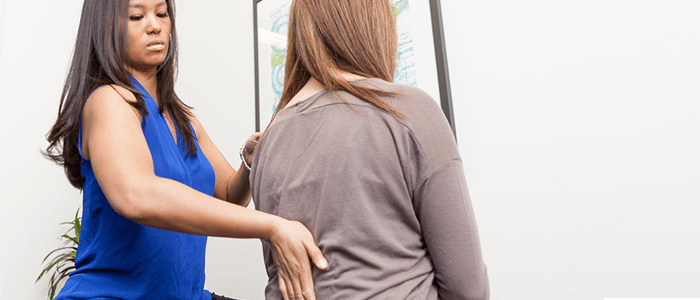 Involuntary spasms in your lower back? A dull throbbing ache? Shooting pain down your leg? You are most likely suffering from low back pain (LBP). If you've never had low back pain, chances are you will at some point in your life. Just check these statistics:
Low Back Pain Causes
Why are we more susceptible to low back pain than ever before?
Our backs play a supportive role for our bodies – at rest and in motion. Extra bodyweight puts greater demand on our spines and other joints. Research shows3 that a higher Body Mass Index (BMI) increases the risk of suffering low back pain. With growing rates of obesity4, Canadians are upping their chances of developing low back pain.
In addition, we are more sedentary than ever before. In industrialized countries, 75% of workers5 sit for long periods of time. Prolonged sitting may negatively affect your muscles and joints and lead to deconditioning (decline in physical functioning), fatigue and stress on the spinal discs causing pain in the lower back.
Canadians are also living longer and fuller lives than generations ago. In fact, in 2011 it was estimated that 5 million Canadians were over the age of 65. The number of retired baby boomers has expanded more than 29% in five years, and is expected to continue to grow. Aging in Canada has completely changed with the baby boomer generation and has required greater collaboration among health teams treating our aging population for conditions like low back pain.
1960: 7.6%
2007: 13.4%
2050: 26.9%
Responses to the Low Back Pain Epidemic
Recently, the Ontario Ministry of Health and Long-Term Care supported a policy change that would provide "a tangible opportunity for Family Health Teams and Nurse Practitioner-Led Clinics to explore how a chiropractor could be integrated into their interdisciplinary primary health care team."
As one component of the Ontario's Ministry of Health and Long-Term Care's three-pronged Low Back Pain Strategy, two pilot projects have been developed. The first, the Interprofessional Spine Assessment and Education Clinics (ISAEC) pilots, has been operating since November 2012. In this pilot, chiropractors provide assessment, education, and evidence-based treatment plans to low back pain patients referred to ISAEC by primary care providers in the community. The second pilot program, the forthcoming Primary Care Low Back Pain (PCLBP) Pilot program, will see interprofessional primary care teams (i.e. Aboriginal Health Access Centres, Community Health Centres, Family Health Teams and Nurse Practitioner-Led Clinics) working collaboratively with local allied health professionals, including chiropractors, in the implementation of low back pain programs. These pilots will aim to improve the assessment, treatment and management of LBP in primary care settings. The PCLBP will also provide interprofessional teams with a tangible opportunity to explore a recent policy change implemented by government, which allows these teams to hire chiropractors onto the team in funded roles.
Canadian chiropractors are trained to assess and diagnose back pain, as well as offer comprehensive treatment plans. Typically, plans are holistic. A chiropractor addresses all contributing factors of low back pain, such as misalignment, joint disfunction, injury, ergonomics, exercise and overall health and then develops a customized program to relieve pain, increase mobility and get you back on your feet. Chiropractic treatment is a drugless and non-invasive treatment option.
How Chiropractic Expertise Can Help Low Back Pain
Chiropractic treatment relieves low back pain using effective clinical tools like manipulation, mobilization, soft tissue therapy, exercise, patient education, modalities (i.e. ultrasound, laser) and rehabilitation. Extensively trained in spinal manipulative therapy (SMT), chiropractors are proficient in providing "adjustments" which have been proven effective in reducing pain, improving function, and decreasing the chances of low back pain becoming a chronic condition. Patients treated by a combination of adjustments and exercise reported significant improvement at three and 12-month follow-ups6 – a vital point since low back pain recurrence rates are high. How high? A 2003 study showed a recurrence of low back pain in 73% of patients within 12 months7.
Click here to read more about how chiropractic expertise in treating low back pain can ease pain and lower your risk of recurrence.
Canadian chiropractors can provide education on your spine and posture, as well as create a personalized treatment plan including back exercises and ergonomic solutions for your workstation.
Find a chiropractor today and join the other 4.5 million Canadians visiting their chiropractor each year!
Find out about insurance coverage for chiropractic treatment here.
---
1. Cassidy JD, Carroll LJ, Côté P., The Saskatchewan health and back pain survey. The prevalence of low back pain and related disability in Saskatchewan adults, Spine (Phila Pa 1976). 1998 Sep 1;23(17):1860-6; discussion 1867.
2. Cassidy JD, Carroll LJ, Côté P., The Saskatchewan health and back pain survey. The prevalence of low back pain and related disability in Saskatchewan adults, Spine (Phila Pa 1976). 1998 Sep 1;23(17):1860-6; discussion 1867.
3. Seaman, David R., Body mass index and musculoskeletal pain: is there a connection? Chiropractic & Manual Therapies 2013, 21:15
4. Laurie K. Twells, Deborah M. Gregory, Jacinta Reddigan, William K. Midodzi, Current and predicted prevalence of obesity in Canada: a trend analysis, CMAJ, Vol. 2, No. 1, 2014
5. Angela Maria Lis, Katia M. Black, Hayley Korn, Margareta Nordin, Association between sitting and occupational LBP, Eur Spine J. Feb 2007; 16(2): 283–298.
6. Childs JD, Fritz JM, Flynn TW, et al. A clinical prediction rule to identify patients with low back pain most likely to benefit from spinal manipulation: a validation study. Ann Intern Med 2004;141:920–8.
7. Pengel LH, Herbert RD, Maher CG, Refshauge KM, Acute low back pain: systematic review of its prognosis, BMJ, 2003 Aug 9; 327(7410):323.