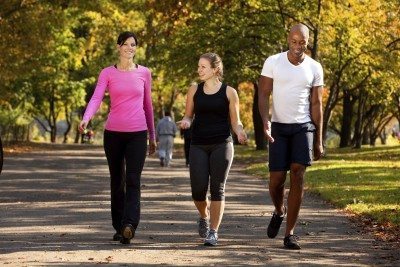 February is Heart Month! As health advocates, we are focusing on the importance of cardiovascular health and want to ensure you have the resources available to help you stay active and make better lifestyle choices.
It is estimated that 1.6 million Canadians are living with heart disease1. Focusing on five or more healthy behaviours such as remaining smoke-free, keeping a healthy weight, committing to regular physical activity, eating a balanced diet, and controlled levels of blood pressure, diabetes and cholesterol are associated with an 88 per cent reduction in the risk of death from heart disease or stroke2.
Physical activity is key to enhancing your overall health as it helps to prevent heart disease, provides a boost in energy levels, decreases stress and prolongs independence as we get older.
The Fit-in-15 program was developed by Canadian chiropractors who recognize the difficulty in staying motivated and remaining physically active while leading a busy lifestyle. Fit-in-15 is an easy to use and free resource available for all Canadians which can help improve your endurance, energy and mood.
Depending on your needs, you can tailor your Fit-in-15 program around one of three components of fitness: cardio, strength, and flexibility. From there, your 15-minute activities can range from walking to an array of muscle strengthening exercises or stretches. For example, if your work setting is primarily sedentary, you can take a walk for 15-minutes while on a break, or you may base your program on flexibility to ease muscle tension in your legs, or go about strengthening your back and shoulders to help improve your posture.
Once you've created your program, you can make use of the My Calendar feature which allows you to track your progress by creating email reminders. This is essential to building the habit into your lifestyle as it requires your ongoing commitment and engagement in order to stay fit. Here are a few extra tips to keep you motivated:
Try picking new exercises from time to time. Switching activities will make your workouts more exciting.
Pick at least one time of the day where you can dedicate 15 minutes to activity. This ensures that time is reserved for your health, helping you prevent other activities from getting in the way.
If a certain time of day isn't working, try another timeframe where you are likely to succeed (i.e. early mornings vs. evenings). When the weather is nice you may choose activities that take you outside. Try a variety of strength and mobility activities to see what works best for you.
Remember that Fit-in 15 is about introducing a daily, healthy habit that can help strengthen your commitment.
Start your Fit-in 15 program today and improve your heart health!
1Public Health Agency of Canada 2009. Tracking Heart disease and Stroke in Canada.
2Ideal Cardiovascular Health and Mortality From All Causes and Diseases of the Circulatory System Among Adults in the United States. Circulation. 2012;125:987-995