Dr. Karma Patel asks every new patient who comes to see him the same question: "If you didn't have back/neck/shoulder pain, what would you be doing today?"
Athletes mention grabbing more rebounds or jumping higher. Parents say they want to play with their kids without pain or hold their baby more comfortably. Framing chiropractic treatment around everyday activities and small goals helps patients see benefits as something they can achieve. That increases the chances that they will stick to their regimens.
A 2014 graduate of New York Chiropractic College, Dr. Patel assesses each patient with the goal of creating a personal treatment plan that helps them confidently return to their everyday activities.
"Treatment looks different for everyone," explains Dr. Patel. "A professional athlete and a 40-year-old parent will have very different goals for how they want to move on a daily basis."
Common questions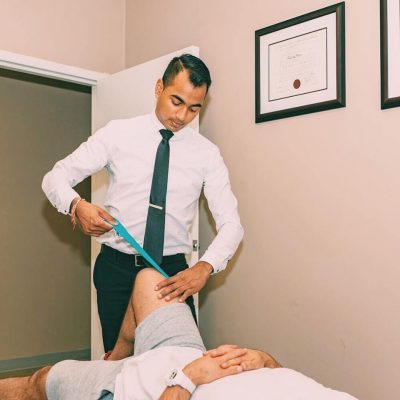 Patients have their questions, too. He often hears patients ask how chiropractic can help their condition and how long the treatments will last. His response? It's all about the research.
"No matter what someone comes in for, I always provide recommendations based on the latest research," he says. "And research suggests that active therapy is the most beneficial and has the strongest evidence for long-term effect."1
With this in mind, Dr. Patel incorporates exercise and physical rehabilitation into most treatment plans. A combination of soft tissue therapy, joint mobilization, spinal manipulation, Kinesio taping, and instrument-assisted techniques make up the first half of his treatments. Then he takes patients to the gym in his clinic and guides them through rehabilitation exercises.
"When a patient is experiencing hip or back pain, the problem could truly be that they have weak glutes or a weak core that is unable to stabilize the spine. That's when strength training comes into play."
Challenges and rewards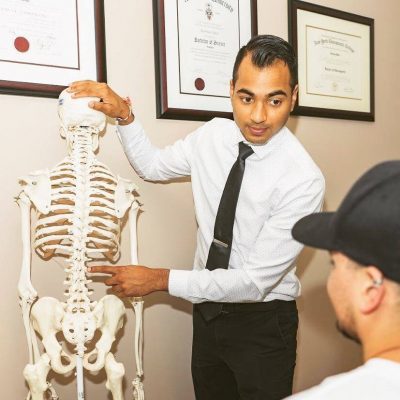 "Sometimes patients don't respond to my type of care, and that's OK. I refer them to someone else if I think they would benefit from that. Or if someone comes in complaining of a condition that is not within my scope, I explain that chiropractors are spine, muscle, and nervous system experts and I refer them to a colleague with different expertise. My goal is to get them better."
The best part of being a chiropractor according to Dr. Patel: "The gratitude. That's why I truly became a chiropractor. I enjoy helping people and the best part is when, over time, I see a patient's smile get bigger and bigger, achieving things they couldn't achieve before. They meet their functional goals and they're happier. That makes me happy."
---
4.7 million Canadians already know the benefits of chiropractic care. Want to join them? Find a chiropractor in your area today.
Related Posts: