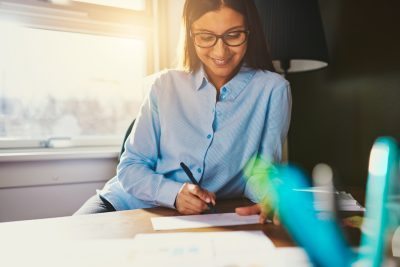 Happy New Year!
Do you set goals for yourself at the start of every year? We all have aspirations that drive us forward, and January is a popular time to reflect on the last year and re-evaluate our plans moving forward. Setting goals is the first step to getting yourself to where you want to be one month, year, or several years from now. It helps to motivate you to work towards your long-term aspirations.
However, the age-old trope of New Year's resolutions falling to pieces by February is no myth: only about half of the participants in a psychological study kept their resolutions leading up to the one month mark after they were set.1 This is just one documented example of the well-known gap researchers have observed between intent and behaviour.1
Not only can we set goals, we can also strive for them. The first typically follows the second1: 
Goal setting means you're coming up with the initial list of goals you wish to accomplish and you determine what—to you—would mean you succeeded.1
Goal striving is the process you take to plan and follow-through with those goals, and the behaviours you need to change in order to achieve those goals.1
When there are setbacks, you might revisit the criteria or the goal itself to see if it's attainable or still worth pursuing.1
Usually when we make these goals it's a mental checklist. However, there are some strategies you can use to help follow-through with your aspirations to make them a reality. A concept that is commonly referenced to help people reach their goals is the SMART goal system. In its original form, SMART goals are2:
Specific – target a specific area for improvement
Measurable – quantify or at least suggest an indicator of progress
Assignable – specify who will do it (with self-goals, this is most likely going to be you!)
Realistic – state what results can realistically be achieved, given available resources
Time-related – specify when the result(s) can be achieved
Set specific, realistic goals where you can track progress, give them a timeline, and fully commit that you'll be the one working towards them. The next thing to do is take one small action towards the goal—goals which could be as simple as adding more fruits and veggies to your diet or as complex is pursuing a life-long goal.1 That small action sets things in motion towards transforming aspirations into reality.
Whether your health goal is large or small, a chiropractor can help. At your next visit, ask your chiropractor about it; they will listen to your health goals and help develop an attainable plan to achieve them. Until then, know that you can do anything you set your mind to!
References
Mann T, de Ridder D, Fujita K. Self-regulation of health behavior: social psychological approaches to goal setting and goal striving. Health Psychology. 2013; 32(5): 487-98. doi:10.1037/a0028533.
Doran GT. There's a S.M.A.R.T. way to write management's goals and objectives. Management Review. AMA FORUM. 1981; 70(11): 35-6. http://community.mis.temple.edu/mis0855002fall2015/files/2015/10/S.M.A.R.T-Way-Management-Review.pdf. Accessed December 21, 2016.